Leo Varadkar has admitted that Boris Johnson's latest Brexit play of introducing UK legislation that could overwrite parts of the Northern Ireland protocol has set off "alarm bells" at the heart of Irish government.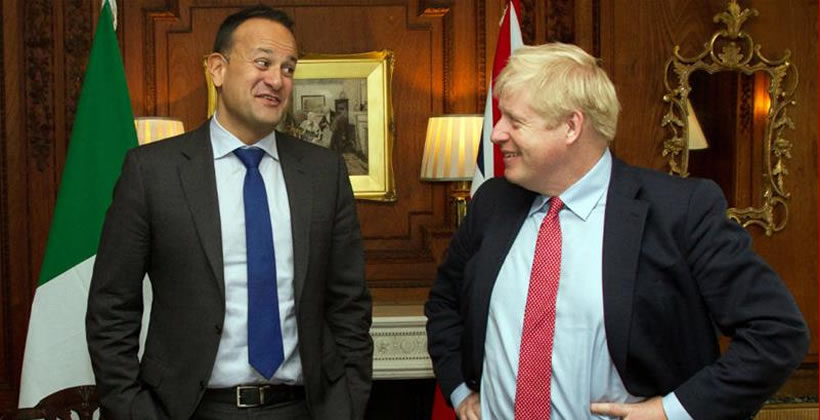 In a hint at Mr Varadkar, the Fine Gael leader's willingness to reach compromise, he has sujested that the difficulties that could arise from Boris Johnson's new legislation were "not insurmountable".
The comments made by Mr Varadkars, who is now deputy to the current Irish Taoiseach Micheal Martin, are indicative of the Irish Government's realisation of the uncertain position that Ireland now finds itself in.
Mr Varadkar has also suggested that the move to introduce this new legislation could be a case of "brinksmanship" on the part of Mr Johnson, who also recently told the EU that the UK's fishing quota should be increased from the 25% that the UK is currently allocated under the EU's Common Fisheries Policy, to 50% of all fish caught in British waters.
The fisheries allocation coupled with the EU's demand that the UK continues to adhere to EU state aid rules remain the main sticking points to the finalisation of a free trade agreement between the two parties.
Mr Varadkar also made reference to the admission made by the Northern Ireland secretary, Brandon Lewis, that the overriding of parts of the Withdrawal Agreement could break international law, with Mr Varadkar stating that the "kamikaze" strategy taken by the UK had backfired.
He said: "These were really extraordinary comments, and certainly set off alarm bells in Dublin."
While speaking to RTE radio Mr Varadkar said, "I think they want a deal."
And that, the remaining issues "would not seem insurmountable", suggesting the Irish Government's openness to compromise in order to reach a deal with the UK.
The Brexit Party leader, Nigel Farage has commented, with regards to the UK Governments demand, to the increase UK fishing quotas to 50% of the UK fish stocks that the UK had, "grown a backbone".
Adding: "For far too long, foreign boats have been able to pillage British waters with relative impunity.
"French fisherman could sit on their boats and watch as once-thriving British coastal towns and communities were decimated by years of EU quotas.
"But now it seems like we've grown a backbone and are demanding that we increase our fishing quota by 50%, at the expense of EU boats – this is a good start.
"Barnier, however, is apparently unwilling to accept this, hence why no deal remains a serious option."
With the deadline set by Boris Johnson for the end of October and the transition period due to end on December 31st, it remains to be seen whether or not these final sticking points are indeed, "not insurmountable" or if UK and EU trade next year will be carried out under WTO terms.