Huge crowds of pro-veteran protesters descended on Nottingham today to march to highlight the plight of veterans and children in the UK. Huge crowds filled up Old Market Square and there were some clashes with opposing Antifa protesters.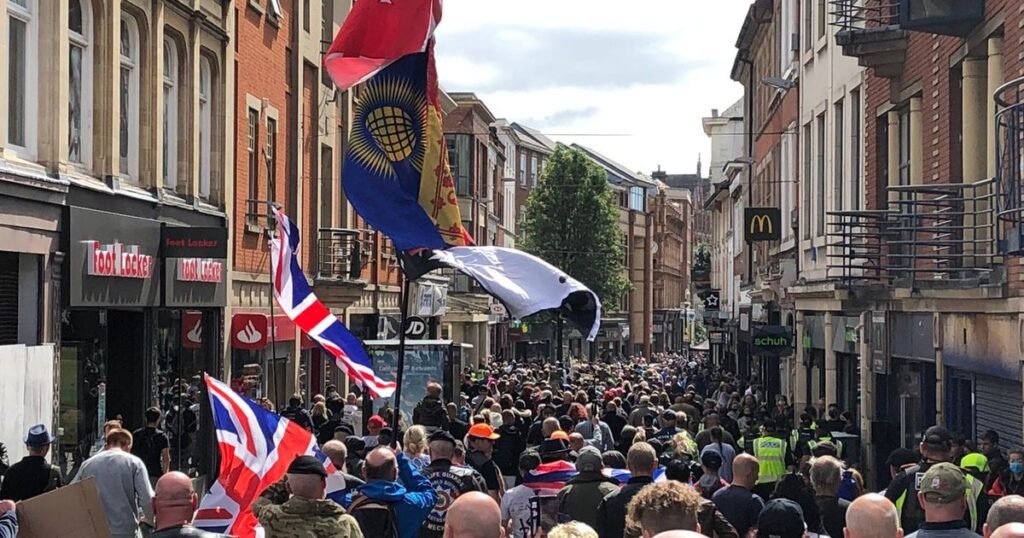 The pro-veteran supporters marched with banners stating amongst other things, "God Bless Donald Trump" and "Antifa Protects Pedos". Antifa counter protesters carried banners proclaiming "Anti Fascists Support Black Lives Matter".
The public was told to avoid the area and large numbers of police officers were brought in to manage the protests. Queen Street and King Street were both closed while the protests were ongoing.
The Nottingham police made a statement to say that there were a few minor disturbances but that the protest went smoothly and that no arrest were made.
Nottingham City Council leader David Mellen spoke of fears that far-right groups may attend the protests, making the following lengthy statement:
"If you're visiting Nottingham city centre today to support local businesses, we want to make you aware of protests that are due to take place so you can plan ahead. 
"The council is working with Nottingham Police to manage any disruption the protests may cause. 
"Queen Street and King Street will be closed to traffic from 9am which will mean buses with stops there will pick up and drop off on Parliament Street instead. 
"The closure will be lifted as soon as possible after the protests. There are concerns that people with far-right views may decide to become involved in the protests. Racism is not welcome in Nottingham and we would encourage anyone planning to travel here with such views not to come to our city. 
"We urge all protesters and counter-protesters to act responsibly during the current pandemic by making sure they socially distance and wear a face covering."