A writer for left-wing New Statesman magazine has sparked outrage after he tweeted his condemnation of the shooting of an Islamist terrorist who decapitated a French teacher last Friday (16th).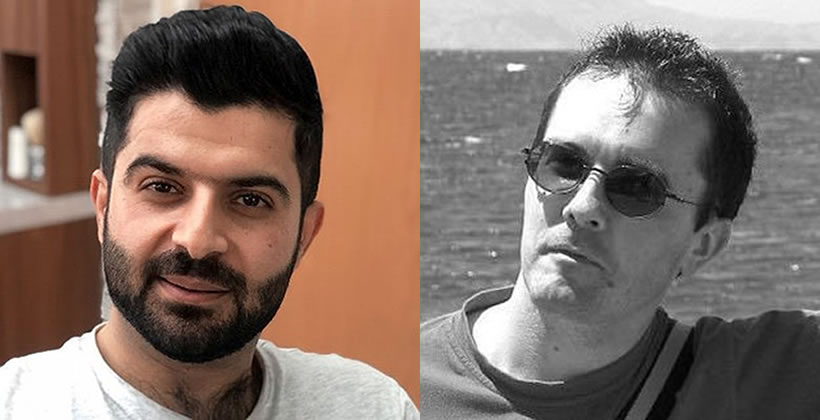 Dana Nawzar Jaf tweeted, "I fully condemn French police's senseless murder of the Muslim suspect last night." and claimed that, "Macron and his security apparatus should explain to the public what was the need for the use of the disproportionate force against someone suspected of a knife crime"
Jaf ended the tweet by claiming "France is in crisis".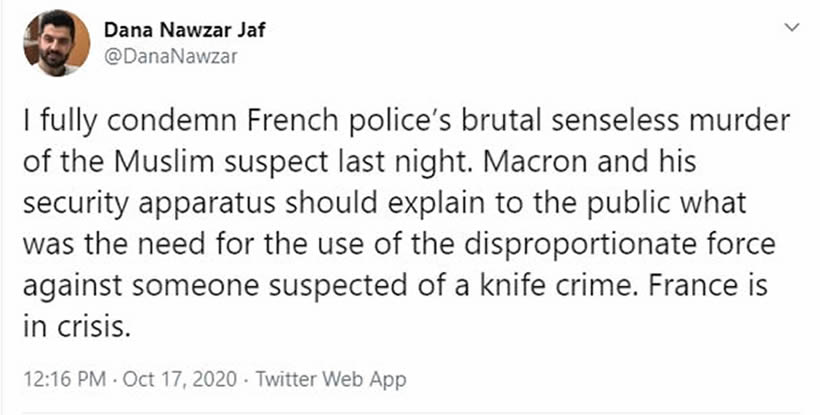 The attack that Jaf attempted to play down as a "knife crime" was the beheading of the French history teacher Samuel Paty, 47, by Islamist extremist Aboulakh Anzorov, who decapitated the teacher with a kitchen knife on Friday for showing a caricature of the Muslim Prophet Mohammed in a lesson that he was giving on freedom of speech last month.
Anzorov carried out the killing after asking school children to point out the teacher and was said to have shouted "Allahu Akbar" – meaning God is the greatest – as he carried out the horrific attack.
In another tweet seemingly justifying the attack, Jar went on to say, "Bullying Muslim children in the name of teaching them free speech has to stop."
Adding that, "Showing caricatures to Muslim kids disrespecting the Prophet Muhammed is child abuse."
He went on to compare the showing of a cartoon of Muhammed to that of Holocaust denial saying:
"Macron's ass will be on fire if a teacher promoted Holocaust denial in front of Jewish kids to promote free speech".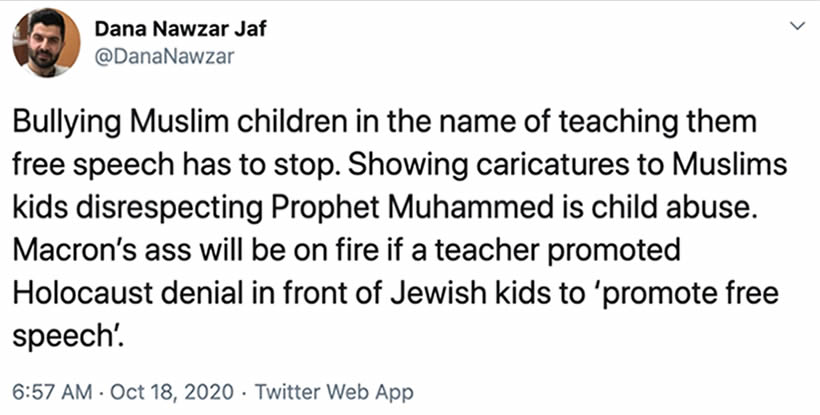 Despite Mr Jar's claim of "disproportionate force" against the Jihadi that committed this atrocity, Anzorov was only shot by French police after severing the head of Mr Paty and then threatening police with a gun.
Mr Jar, who is believed to have arrived in Britain on a scholarship from Iraq and who did not condemn the beheading itself, last night said of his original tweet:
"That was not meant to be a factual statement about the police. It's meant to be a sarcastic comment towards Macron who is the number one fueler of terrorism."
Despite his claim, however, his subsequent tweet shown below seems to show that Mr Jar is of the opinion that it is right and justified that the showing of cartoons of Muhammed should be met with violence.
In it, Jar states "I am getting death threats from free speech warriors who believe mocking the Prophet of a billion and a half people shouldn't be met with violence."

Mr Paty, the innocent teacher who was murdered in the attack, didn't mock the Prophet Muhammed however and simply shown the cartoon caricature to his pupils for discussion on freedom of speech during one of his lessons.
Apparently, for Dana Nawzar Jaf at least, this is enough to justify the horrific attack in France and rather than support his claim that his original tweet was simply a "sarcastic comment to Macron", the tweet above seems more to condone the attack and violence in general, towards anyone who shows cartoons or caricatures of Muhammed.