UK Prime Minister Boris Johnson has vowed to "build back better" after the Coronavirus has been defeated saying that "after all that we've been through, it isn't enough just to go back to normal. We've lost too much, we've mourned too many. We've been through too much frustration and hardship just to settle for the status quo ante, to think that life can go on as it was before the plague".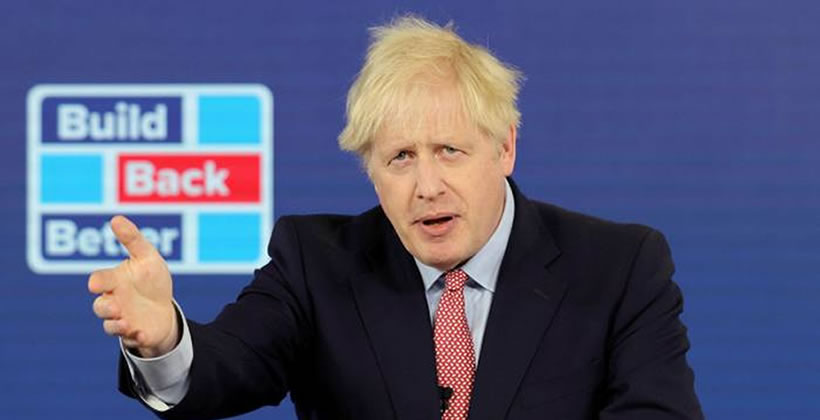 The PM also dismissed that claims that the COVID-19 virus had left him physically unfit to run the country saying:
"I've read a lot of nonsense recently of how my own bout of COVID, has somehow robbed me of my mojo, and of course this is self-evident drivel. The kind of seditious propaganda that you would expect from people who don't want this government to succeed".
Going on to say that, "I could refute these critics of my athletic abilities in any way they want, arm wrestling, leg wrestling, sprint off, you name it".
He went on to say that when he had COVID that his problem was that he was overweight and this is why it had affected him so badly. He confirmed that he has now lost 26 pounds and is continuing his diet, in an effort to lose even more weight.
New Jerusalem
Drawing comparisons to the UK's recovery from World War II, Mr Johnson went on to say how he wanted to build a "new Jerusalem", with opportunity for all, improved housing and healthcare.
He also said that he wanted to see the back of the coronavirus and the "erosion of liberties" that it had led to and to see the country flourishing once more, insisting that the pandemic should not be allowed to "hold us back or slow us down".
Mr Johnson then affirmed that "we will not content ourselves with a repair job" and stated that once free of the pandemic, the government would turn the UK into a "world leader" in green energy, with an announcement of £160m of investment into offshore wind farming.
He also announced that the government will "fix the injustice" of care home funding after the pandemic had "Shone a spotlight" on the problems that they face.
Other commitments included boosting housebuilding and getting more first time buyers on to the property ladder by improving access to low-deposit mortgages and in education, exploring the greater provision of one-to-one teaching for any pupils that may have fallen behind as a result of the pandemic or for those of "exceptional abilities".
State Interventions
The PM also address the concerns of fellow Conservative MPs with regards to his state interventions into the UK economy and of the erosion of liberties stating that there was, "simply no reasonable alternative" whist the country is battling with the COVID virus.
He said that the chancellor, Rishi Sunak had intervened in the economy reluctantly, as the country was facing a disaster similar to that seen in wartime, but added that, "We must not draw the wrong economic conclusion from this crisis," saying that Labour believed the expansion of the state to deal with COVID-19 was to be welcomed.
He said that he was looking forward to the state taking a step back and letting "the private sector get on with it".
Adding, "I have a message for those on the left who think everything can be funded by 'Uncle Sugar', the taxpayer."
He said that it is the private sector that is driving innovation in the fight against the coronavirus, including the intellectual property ownership of a vaccine.
Adding, "There are many who regard this state expansion as progress, who want to keep the state supporting furlough forever, keep people in suspended animation".
But that, "We Conservatives believe that way lies disaster, and that we must build back better by becoming more competitive, both in tax and regulation."
With regards to the state of the UK after the COVID-19 pandemic he said:
"We are resolving not to go back to 2019, but to do better: to reform our system of government; to renew our infrastructure; to spread opportunity more widely and fairly and to create the conditions for a dynamic recovery that is led not by the state but by free enterprise."