It was announced recently by the leader of Black Lives Matter UK, Sasha Johnson, that she amongst others, will be spearheading a new political party in the UK that intends to contest seats at the next General Election.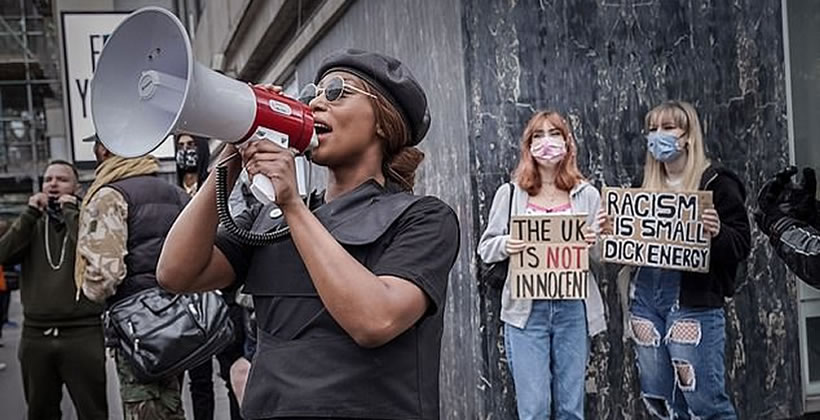 Sasha Johnson is among those spearheading the new party which they are calling the Taking The Initiative Party.
The news of the formation of Johnson's new party will be of no surprise to the many people who have always maintained that the Black Lives Matter movement was and always has been, a Marxist communist political organisation at its heart.
Johnson announced TTIP at the Million People March, to the crowd of around 400 people that had turned up.
Dressed in her typical militant garb of a stab-proof vest, camouflage combat trousers and black beret, Johnson told supporters how the Taking The Initiative Party, "will be the first black-led political party in the UK.
Adding, "We want representation. This is what democracy looks like".
Johnson makes her demand for representation for ethnic minorities at a time when Britain enjoys one of the most ethnically diverse cabinets and parliaments in history and she dismisses ethnic minority politicians such as David Lammy, Priti Patel and Sadiq Khan as "tokenistic".
She did state however that the new political party was "not just a party for black people' and would also represent the working class.
Also adding that: "We are tired of being let down by Labour, Conservatives, Lib Dems and all of them. We want our own political party, one that reflects the multicultural nation that we have become. I want my black younger generation to exercise your civic rights. Look at the manifesto of TTIP because it's the future."
The party has now been registered with the Electoral Commission and says that it intends to, "create real change in communities across the UK by setting the agenda in government". In its constitution, it says that there will be no discrimination 'with regard to sex, race, colour, creed, age, disability or sexual orientation".
While this is an admirable aim of the party, one would be forgiven for thinking that it has already fallen at the first hurdle.
Surely a political party that claims in its own constitution that there will be, "no discrimination 'with regard to sex, race, colour, creed, age, disability or sexual orientation" cannot then refuse none black people the right to serve in leadership roles, based on the fact that they are not black and still be running the party in line with its own constitutional commitment to equality?
In fact, a political party that discriminates against non-black people in such a way could very well find itself on the wrong side of British equality laws.
Of course, the Equality Act 2010 specifically lists "race including colour, nationality, ethnic or national origin" as a "protected characteristic, that protects people from discrimination at work, in education, as a consumer, when using public services, when renting or buying property and finally, and most importantly in this case, as a member or guest of a private club or association, which includes political parties.
In fact in the The "Equality Act 2010: a guide for political parties" brochure, available from the Equality and Human Rights website it clearly states:
"The underlying principle of the Act is that everyone should be treated fairly and have equal opportunities to fulfil their potential. Under the Act, it is unlawful to discriminate, harass or victimise someone because they have, or are perceived to have, a protected characteristic or if they are associated with someone who has a protected characteristic."
It seems strange to us then, that a political party that claims to want to fight against inequality, indeed a party born of the Black Lives Matter movement, a movement that itself purports to exist to fight against inequality, would openly proclaim that this will be the "first black-led political party in the UK". Presumably meaning one that will only allow black people in leadership positions.
If this is indeed the policy of Sasha Johnson's new party, we fear that it won't simply be the morality of such a discriminatory policy that they will find being called into question, but it may indeed become a legal problem for the Taking The Initiative Party too.